Toll Free
1-(888)-849-6781

Over 3.8 Million Likes
3,851,216 Facebook Likes and counting.
People love our offers, you will too!
Grand Sirenis






For Only $99 Down!
$590
List Price
$2097
Discount
72%
You Save
$1507
Time left to buy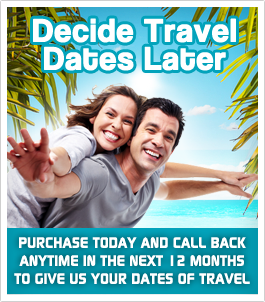 Other Hotel Deals
Krystal Resort Cancun
Cancun, Mexico
5 Nights Hotel Accomodations
Includes All Meals & Drinks
Omni Cancun Resort
Cancun, Mexico
5 Nights Hotel Accomodations
Includes All Meals & Drinks

The Grand Sirenis Riviera Maya Resort and Spa has been ranked as the #1 snorkeling resort in all of North America. The resort has 5 spectacular virgin beaches, making the location the best on the entire Cancun Mayan Riviera. Plus, the largest coral reef on the Mayan Riviera is situated directly in front of the resort`s beaches. It is perfectly accessible to swimmers, and of immense interest to snorkelers and anyone experienced in deep sea diving. The Yalku lagoon where the resort is located is connected...
more

"Best family vaction ever! Thank you BookVIP for making this happen!"
"The On-site Dolphin Discovery was an experience of a lifetime - thank you BookVIP!"
"We just finished a week vacation at the Grand Sirenis. We booked through BookVIP and I have to say that I'm extremely pleased with the entire trip, all the way from booking through the conclusion of the trip. We got a phenomenal deal and had an excellent trip!"
"We've had a wonderful time. We could not have asked for a more pleasant resort. The snorkeling is amazing. The best I've ever seen! Just unbelievable. "
"We booked through BookVIP and it's been outstanding. Their service was wonderful. We told the staff members at the Grand Sirenis what we paid for our all inclusive stay and they were blown away!"
"We dont want to go back! Thank you BookVIP!"
"The Grand Sirenis is full of activities and you can't get better than the scenery. We got a great deal through BookVIP."
"We've enjoyed the beautiful Caribbean ocean. This has been an ideal getaway for us."
"We had a fabulous time. Loved this place and highly recommend it!"